Some NOTES
Need an Address for your Christmas Cards or Phone Number to call a greeting
2012
(9 Dec 2012) There have been many changes in technology and systems of delivery on the internet since this page was begun. If you have been a "follower" you might try some of the following ...
• Photos: Starting point is generally the PHOTOVAULT or DROPBOX LINKS ... Social networking systems are the current "hot items" to include FACEBOOK and other social networking applications ... with the termination of various Apple services for photos, I have become involved in using DROPBOX as my main photo display ...
• We use email regularly and "texting" has taken over as the current system for quick communications between us. See Family Addresses web page.
• On these Thomas Family Pages I recommend starting points of DROPBOX LINKS for PHOTOS (pictures sometimes say things quicker than words) and FACEBOOK for now. Older/historial photos are in the PHOTOVAULT.
• I use the BLUEPAGE as my startup page and recommend to at least have this page in your Bookmarks/Favorites if you have any interest in following or accessing info on/about the Thomas Family!
• Currently, many people are using handheld devices (I am most familiar with the iPhone and iPad) and these may be a convenience for you. My "family" starting page there is again the iPhone BLUEPAGE (bookmark or add to your homescreen on your device any pages you want to access quickly).

• Family geography has also changed some ... Sharon (family) reside in Texas, Colleen (family) are pretty stable in Boston, Ann/Wes/Gunnar recently have become more permanent in New York, Carolyn (family) remain in MN, Jim/Jean have made their permanent move to Tucson.
• The family has also expanded a bit. See some of the names if you like on David Personal Page

2010
Our family picture systems are expanding ... there are several good ones (if you are really interested). I don't place the links here to (hopefully) avoid some "automatic robot systems". Check my "bare page" (blue page) for the links. ;-)
PHOTOGALLERY or GALLERY (hope you have noticed): That is the name I have given to the new PHOTOGALLERY or GALLERY site to distinguish it from the PHOTOVAULT & PHOTOPAGES. GALLERY has a little more "glitz" along with "built-in slide shows" on each page. PHOTOVAULT is my "normal" very functional set of pages to just "get the job done" while sharing pictures while PHOTOPAGES was the next step. I also have some Movies, File transfers, and additional Picts available on my iDisk for family members.
2008
March is winter sports competition finals ... Tyler is swimming at the NCAA III Nationals at Miami University (Ohio). Follow it at Click for the web site. I also have copied rseults for Tyler's events to the 'Family' pages. (The "story of the meet" is how Tyler lost his goggles in the final event -- it is a touchy subject now but that will dim with time.)
WOW!! Tyler is named "Swimmer of the meet" at the 2008 NESCAC Conference meet in March, 2008. Read the news release and see the results on the 'Family' pages -- Way to go Tyler!!! Tyler's specialty is the Breaststroke -- 50, 100 and 200!!
On March 4 the All-Conference Selections were announced and Tyler headed the list. Super!!
Madeline Ebba Pike Is Here: January 27, 12:06 PM, Boston, MA and all is well! We are sooooooo blessed (again)!!! [Ebba is from Ben's family - I believe Ben's grandmother] ... Colleen, Matthew and Madeline are home now (Tuesday) and getting used to a "new way of life" ... exciting!! Ann and Sharon are planning a visit for next weekend!! [Click the Photo to see some Picts -- Bookmark the page to watch for more picts as we receive them.]

---
2007
CHRISTMAS 2007 was very special on Bellows ... everyone was there ... went to church together (Kyle directed us in handbells) ... had a traditional Scandinavian dinner (grout and klub courtesy of Carolyn) ... being the youngest, Brailey was the center of the gift opening ... so glad Colleen/Matt could be there too as we now await news of their new arrival. See PHOTOVAULT

We were also able to be a family for THANKSGIVING 2007 on Bellows and picts of that are also in the PHOTOVAULT. We really had a good time with the "baby shower" for Colleen/Matt.
WEDDING BELLS: Tim and Parker made it "official" in October with a wedding "in the Park" in Brooklyn. Weddings are a great time for some quick family relationship renewal time and there are some picts to support that in the PHOTOVAULT _OR_ PHOTOPAGES.
SPECIAL VISIT: Sharon/Glynn/Brailey visited us in Minnesota in July -- we had a chance to finally meet Brailey.
When they got home, we are told that Brailey also "remembered" us and had a good time with a photo book that Ann had sent. Picts in the PHOTOVAULT _OR_ PHOTOPAGES
PHOTOPAGES (hope you have noticed): That is the name I have given to the new PHOTOPAGES site to distinguish it from the PHOTOVAULT. PHOTOPAGES has a little more "glitz" along with "built-in slide shows" on each page. PHOTOVAULT is my "normal" very functional set of pages to just "get the job done" while sharing pictures. I also have some Movies, File transfers, and additional Picts available on my iDisk for family members.
SENIOR RECITAL: March 20, 2007 was Kyle's Senior (Bassoon) Recital at UWRF. What a terrific experience to be there!!
SWIMMING: Feb and Mar are busy swimming months for Tyler at Williams College. There are many movie clips of the Conference Tournament and the NCAA III Meet on the iDisk.
NOTE: On Feb 16, 2007, Karen Skones Denmark passed away after and extended "battle" with cancer. You may access the Memorial Service Folder online.
Medalists: Catalyst Quartet earned a 5th place finish at the International Senior Quartet Convention in Albuquerque, New Mexico on January 26, 2007. They sang "Sweet, Sweet Roses Of Morn" and "Cabaret" in the Final Competition. Total score= 829. Way to go Jim!!!!
---
2006
Involved: 22 Sep 2006 - I have "volunteered" as a web manager and web host for the International Falls High School All Class Reunion 2007. Check the site, leave a message, and let me know what you think! (Try your "family" passwords!!)
Friends: 27 Aug 2006 - Kari and Bruno were married in New York City
60 Years: 2 July 2006 - Ray and Shirley celebrate, with their family and friends, their 60th Wedding Anniversary
Picts: 30 June 2006 - Sarah, David, Grace & Tim visit with Jim/Jean in Ames. Ann, Carolyn, Dave visit for a day! Nice time and a few photos!
Departed: 23 May 2006 - I received email news from Colleen that Matt's stepfather, Tom, passed away (cancer) early this morning (58 years old). God Bless the family as they continue on with life and remember the good times with Tom.
Bonins: 25 April 2006 - Addison Grace is born to Beth and Jim (4th child). Everything is just fine (due date was April 27 so things were "right on schedule" --- what a blessing again!! (One Photo)
Nice Work Jim: April 2006 - Catalyst is the new Central States Senior Division Champion Quartet. (See: Champions 06
Picts: 10 April 2006 - Colleen & Ann are visiting in Dallas for a few days. Ann (via Glynn and AIM) have sent some picts so we get a good look at Brailey. Brailey is the center of attention of course......
News: 30 March 2006 - Brailey Jane Newman arrived in this world last night just before midnight. Congrats to Sharon and Glynn and welcome to Brailey. See PhotoVault for picts and more info.
Item: 27 Feb 2006 - Tyler has qualified for the NCAA III Swim Meet at the University of Minnesota. We hope to see him swim there. Link ...
News: 8 Feb 2006 - A nice "feature story" (front page no less) in the North Branch newspaper about Carolyn's work in the North Branch schools. "Too Cool For School"
News: 27 Jan 2006 - After Christmas in Florida and Barbershop Quartet Contest in California (7th), Jim had a pacemaker installed in Des Moines. He hopes this will get him "back on the golf course" next summer (Me TOO!).
News: 16 Jan 2006 - Lucien informs me that the "Johnsons" had a "reunion" with the "Hacks" in California. Had a quick email contact with Keith following that and he "promised some pictures". I hope he delivers on that! (28 Mar 06 - Hey! Picts from Diane)
2005
News: 28 Dec 05 - Sharon & Glynn visited for a few days during Christmas. We kept up a "whirlwind" pace with visits to Ann's, Carolyn's & Colleen's homes. We did family Christmas Eve at Carolyn's this year with Carolyn "doing the hosting" -- many of us rang in Carolyn's handbell choir for the Church service -- the new (Colleen initiated/organized) 'White Elephant' gift system was a big success. Now we all have to recover -- See pictures.
News: 18 Nov 2005 - Three quick news notes: 1- We are all so thankful that Jean is again a survivor after cancer surgery on Wednesday. 2- Daniel got his first deer on Wednesday (Nov 16) and Carolyn promises some picts. 3- After a long tryout, Joshua made the BHS High School JV Hockey team and now the intense hockey schedule starts. Congrats to Jean, Daniel and Joshua!!!
News: Nov 2005 - Kyle is busy with Music - Check out the new River Falls Music
NOTE: On Sep 17, many of us enjoyed "Daylight for Minneapolis", a modern dance celebration for the opening of the New Walker Art Center in which Parker Lutz (Tim Thomas) was a lead dancer. A chance to "meet the performer" included dinner and the weekend included many "family" times. (See Fall 2005 for a few family picts.)
News: 1 Sep 05: In the aftermath of Hurricane Katrina and after being concerned about the Bonins, I called Lucien/Ralph since they seem to keep in touch with most of the family. Lucien indicated she had talked to Rita and Joe - everyone is OK - homes may not be OK! 2 Sep 05: Received some forwarded emails from Lucien and now have email addresses for all of the Bonins (see Addressbook) so you may contact them directly. - Photos
News: Jim/Jean are Grandparents (1st one) - Date: June 20, 2005 5:25:55 PM CDT: Grace is here! About 3:25 PM (CDT) baby Grace (8 lbs and 21 1/4 inches) was born. Sarah herself called about 40 minutes later, sounding very happy and strong and we got to hear Grace cry over the phone. (Message from Jean)
NOTE: Tyler Graduates on June 10, 2005 - Open House on June 18 (3-7pm)
NOTE: Ann and Wes have purchase a Lake Cabin. They have provided some Pictures of the Bonewell Cabin in Wisconsin.

NOTE: (Mar 05) Tyler Rochester Club State Swimming Pre-Meet Psych - Pre-Meet Club Season's Best - Final Results with 200 Breaststroke 1st Place
NOTE: (Mar 05) Sharon's new car
NOTE: (Mar 05) Tyler State Swimming Results Tyler Prelims - Prelim Meet - Tyler Finals with 100 Breaststroke School Record - Finals Meet - Team Standings
NOTE: (6 Feb 05) I had a bad auto accident (no one hurt) and Tim located a replacement car for me since my van was totaled.
2004
NOTE: (18 Dec 04) I received a call from Lucien - Alden passed away this evening - funeral on Dec 22 (11am) at Bethania Lutheran Church, Rosholt, SD. Funeral Folder
NOTE: (7 Dec 04) Ann send a couple of news notes on Tyler's Swimming at Burnsville High School.
NOTE: (5 Dec 04) On a "whim", I drove to the MOA last evening (looking for Sat night amusement) and boarded the new Hiawatha light rail train for a round trip to Target Center and back (the full length of the line). Neat ride and it was free this opening weekend! I'm sure it will spur visitors to the MOA on layovers at the MSP AP. The total round trip took about 1 hour 45 minutes so speed is not the primary purpose to use this method of transportation. You should give it a try! (DT)
News Note: Sarah and David were married on Nov 18, 2004 (see NOOZ & PhotoVault).
News Note: Tim T has just had laser surgery for glaucoma. (29 Sep 2004)
News Note: Sarah/David have stocked up on water, lost their phone and power with Ivan, tree branches down, a neighbor's tree in their yard, wind and lots of rain. Have been "on the edge" - are about 25 miles from coast. (Sep 27, 2004)
News Note: Peg/Jim have "lost their Florida" home to Hurricane Charley. Building again a little distance away.(Sep 2004)
---
2003
Ethel Johnson passed away! - Oct 2003
Kyle places some pictures of "college life" on his own web page. - Sep 2003
---
Password Problems?
---
Check These!!
West Saint Paul: Butler exit from Hwy 52

Saint Paul, MN
(Click for live Webcam)


St Paul Downtown with Minneapolis in the distance. My "home area" since 1966.
Seattle, Washington
(Click for live Webcam)


During our "military time" at Fort Lewis the World's Fair took place in Seattle ... we were early visitors to the top of the "Space Needle".
Seattle, Washington
(Click for live Webcam)


Our apartment window in Olympia (1961-62) framed Mount Ranier. Here Mount Ranier is viewed from the Space Needle in Seattle.
Portland, OR


View of downtown Portland has many memories. Shirley/Ray have lived in Portland for years.
(The Portland Live Webcam Link no longer works but at least we have this (above) view!)
Arizona State University, Tucson, AZ
(Click for live Webcam)


Patricia has a view similar to this from her patio in Tucson ... the sun is always shinning it seems. Jim/Jean probably have a similar view now!
Old Faithful, Yellowstone Park, Wyoming
(Click for live Webcam)


Our trips to Yellowstone National Park were special. The Gysers and Hot Springs were impressive (but smelly).
Niagara Falls, Ontario
(Click for live Webcam)


On an eastern trip in 1964, we experienced Niagara Falls ... a fascinating place.
View Earth from the Sun
Click for live Webcam


Someday this view may be possible to personally experience but for now it is only in pictures or dreams.
Twins Ballpark Webcam
Click here live Webcam


Remembering outdoor baseball (in the hot sun) and outdoors football (freezing temps) at Metropolitan Stadium before the Metrodome years ... the Twins have returned to outdoor baseball. - (Fall 2010: The Target Field Live Webcam Link no longer works here but the above (archived) view is still available!)
Have A Look!!
First are web cams that I maintain at home! You can share in the "weather" experiences at different times of the year!

Thomas Current Webcam 2 (Mac) Image


Click the image for BIGGER
(Click for Web Cam Page)
Thomas Current Webcam 1 (PC) Image
MY WINDOWS COMPUTER CRASHED
This camera is No longer working!


Click the image for BIGGER
(Click for Web Cam Page)
Weather Statements
2016: Summer was moderate - watering grass and flowers not needed! Very extended and comfortable Fall with first significant snow on 18 Nov 2016 (gone by Thanksgiving).
---
2015: After a beautiful and extended fall in 2015, some snow arrives on Thanksgiving Day in Southern Minnesota (including a little in the Twin Cities).
---
2012: After a summer that varied greatly from very wet in the Spring to drought-like conditions and many hot days during mid-summer, the Fall continues to be a bit abnormal. We lived in the air conditioning in the summer but the temps have been cool for some time this Fall. On Oct 15 we still have some flowers but most have been affected by the cold nights and have died. There has not been any trace of snow yet but moisture is not very plentiful. Some leaves have changed colors but many are still "on the tree" --- pick up time will be later!
Slight dusting of snow on 11 Nov ... Electrical storm during the night caused power outage for hour and half night ... A tornado was reported very close to my home but Ann and I could not find the damaged area.
Some dusting of snow on Thanksgiving but it has disappeared. On Dec 2, there is still no snow!
(9 Dec 2012) Things change abruptly -- we have our first significant snowfall of the season --- 10 inches of new snow!
---
2011: A beautiful Fall in Minnesota: On October 20, 2011 we received our first "killing frost" (time for recovering the flower bulbs is here). There was a "killing frost" up north much earlier (Sep 15). Fall weather has been unusually nice with the sun shining a great deal. The summer brought a long stretch of "Florida-like" high temps and high humidity. Air Conditioning was a necessity this past summer. Hurricane Irene caused damage on the Eastern Seaboard in August.
Snowless Fall with beautiful weather. On November19, 2011 we receive our first significant snow of the season but is pretty much "gone" again by Thanksgiving ... Hmmm ... Global warming?
There really is no significant snowfall in December of 2011 ... winter coats are not necessary ... golf courses open for use ... we have a brown Christmas and even use the playgroud equipment in the backyard with the grand children.
On January 8, 2012 there are only patches of snow around and winter coats are not part of the necessary equipment.
---
2010: Well ... It's October 15, 2010 and the Fall moderately warm and sunshiny weather continues ... no suggestion of snow or cold weather yet ... my annuals are still in full bloom (there has been some scattered frost). I'm outdoors most every day in the yard. (Previously there was significant flooding in Southern MN in Sept with heavy rains around Sep 23. Ames had flooding from rains on Aug 10, 2010 -- Record rain in Twin Cities also on Aug 10, 2010 w/2.47" at Airport.)
* (Nov 13, 2010) We have snow on the ground this morning ... needless to say, all the annuals have been gone for some time (with the beautifull fall, it has been hard to pinpoint the exact day of the first frost so the flowers< have gradually disappeared)
(Dec 11, 2010) 18-20 inches of snow descends upon us ... the Metrodome roof collapses ... signals the beginning of a snow filled winter in 2010-11. Many sections of the country experience unusual snow falls this winter.
(Feb 20, 2011) Another 12-15 inches of snow arrives ... this is the winter of "Snow and more snow" in Minnesota it seems.
(Apr 16, 2011) April snow awaits us on Saturday morning (not enough to shovel)
(Apr 20, 2011) Another April snow is on the ground on Wednesday morning (not enough to shovel) ... when will the flowers have a chance?

---
* Wake up to snow on the ground on October 10, 2009 but disappears during the day. First hard frost a day later - 11th - and all my annuals are gone.
* November was beautiful but winter arrives on Dec 8-9 with first significant snow ... looks permanent!
Snowfall changed Christmas plans a bit with heavy snow Dec 23, 24, 25, 2009 which stayed around all winter until a "fast melt" week in the middle of March 2010. This was a winter of significant snow cover.
Spring flooding is early with the fast snow melt in the Red River valley, St. Paul, and St. Croix.
---
* First Dusting of Snow for 2008 on Nov 7.
(NOTE: The Fall was very nice and I kept "waiting" for some significant "winter" item to enter here but it never seemed to arrive. Winter of 2008-09 was just long with no significant weather happenings.
Flooding took place in the Red River Valley most notably in Fargo, ND but that is it. We wait for Spring to appear!)
---
* First Dusting of Snow for 2007 on Thanksgiving, Nov 22 ... (Brailey will get to see her first snow.)
* First significant SNOW on Dec 1, 2007 -- 5/6 inches -- it is white now! The winter of 2007-08 has delivered snow to us.
Easter week in March favored us with some snow almost each day with nothing big but it is wet and heavy!
---
* First Snow Flurries for 2006 on Oct 11 ... There was a "Hard Frost" that night and all my annuals are gone!
Feb 2-6, 2007 - Cold - Double-digits below zero!
Feb 24-25, 2007 - SNOW - 12 inches!
Mar 1-2, 2007 - SNOW - 12 inches!
---
"First Dusting" (of snow) for 2005 on Nov 16.
December 1st Week - a little snow each day - Looks permanent!
Feb 16-18, 2006 - Cold - Below Zero!
Mar 13, 2006 - Typical March - New Snow about 10" overnight!
---
* First Dusting of snow for 2004 on Nov 27.
Christmas week - cold and a little snow each day.
* First Significant Snow on 21 Jan 2005 - Wow ... snow finally here!
Wet snow on Valentine's Day 14 Feb 2005.

Distinctive Webcam Pictures (some personal archives)
---
Interesting Cams!!
Some of my favorite Webcam Links
Check my many links to Webcams on the internet! I view many of these web cams regularily ... one can travel the world with web cams! Click the button below!

---
Harrison Bay, Lake Minnetonka Webcam
(Click for live Webcam)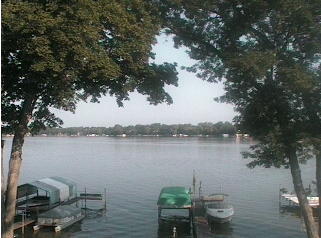 This is Lake Minnetonka on a Bay very close to Colleen/Matt's home. The connection is not very fast and it requires a little time to access this one!
Pike Web Cam Image (the camera is no longer working but there are some previous images)


Click the image for BIGGER
When in Minnesota, Matt & Colleen have this view from their living room window.
Glynn has multiple security cameras at their home ... you'll have to ask him to view those
---
Sand Bay, International Falls, MN
(Click Here for live Webcam)


My "growing up area" was "lake country" ... City Beach is just to the right in this view ... Canada is in the distance.
Black Bay, International Falls, MN
(Click Here for live Webcam)


In younger years, we fished, boated, skied behind cars (wintertime) on the ice, etc. in this beautiful setting at Rainy Lake, Black Bay.
Golden Eagle Webcam
Click here live Webcam


Before acquiring their Wisconsin Lake Cabin, the Bonewell's spent valuable family vacation time at Golden Eagle in the Boundary Waters.
Lake Superior, Duluth, MN Webcam
Click here live Webcam


We have many memories associted with Duluth and now Kyle and Joshua can look on these scenes every day while at UMD.
Iowa State University, Ames, IA
(Click for live Webcam)


The two views of Iowa State University are very close to Jim/Jean's home.
Iowa State University, Ames, IA
(Click for live Webcam)

Concordia College, Moorhead, MN
(Click for live Webcam)


The building has been remodeled but I had many classes and choir section rehearsals in Old Main at Concordia.
Concordia College, Moorhead, MN
(Click for live Webcam)


The Concordia Field House opened shortly before I attend there and it certainly has been a mult-purpose facility. When this camera is live (varies), one can even see a concert on this camera (no sound of course).
St. Olaf College, Northfield, MN
St Olaf Chapel
St. Olaf College, Northfield, MN
St Olaf HiMom<
(Click for live Webcam)


St Olaf (familiar to many family members) offers a "hi mom" web cam (live views) ... interesting!!
Boston, MA

A view of Boston near Colleen/Matt's Boston home (the views will vary).
Dallas, TX

Connection with Sharon & Glynn. The views here will vary also!
Woofdah
Gunner can sometimes be seen in this "doggie daycare" facility.
Check my many links to Webcams on the internet! I view many of these web cams regularily ... one can travel the world with web cams! Click the button below!

---
Some Other Items!
International Falls, Minnesota
Fish Tales
Falls
Falls Journal
Historic Places
---------
Attractions
Rainy Lake
Things To Do
Reports